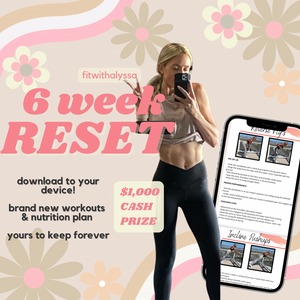 FIT WITH ALYSSA LLC.
THE 6 WEEK RESET
Regular price
$125.00
$0.00
Join now and download EVERYTHING
you need to reach your goals! + a free set of resistance bands!
X
 you do not have to do hours of 
cardio
X
 you do not have to give up your favorite foods foods
Thousands of women have already joined and changed their lives by implementing the methods in this program!
This program is great for any fitness level: beginner --> advanced
The Challenge includes:
Workout Guide: 6 weeks of easy-to-follow workouts (with pictures demonstrating each exercise!) Each workout is about 30-40 mins long. These can be done from a gym OR from HOME! No machines required, just resistance bands! or 1 set of dumbbells if you are more advanced!
Nutrition Guide: EVERYTHING you need to know about establishing a healthy & sustainable diet. I put my years of research in the industry, education, and experience into one easy-to-understand book. You will learn about proper nutrition, how certain foods affect our bodies, metabolism, and how to incorporate your FAVORITE FOODS into your every day diet WHILE LOSING FAT! Win win win!! The Nutrition Guide will not only teach you how to track macros but it will also show you how to calculate your own custom macro plan.


my brand new RECIPE BOOK. With 50+ high protein EASY recipes. You will also get a 7-day example meal plan with all meals planned out for you.
Access to Private Facebook SUPPORT Group- Be part of the amazing FitWithAlyssa Support Community! This group of strong women includes all of the other FWA Members, including myself! When you have questions, you can reach out here for help! This is also where we share recipes, motivation, and support for one another. Being part of a COMMUNITY is crucial to success on a fitness journey- we're all there cheering you on and holding you ACCOUNTABLE! Most diet attempts FAIL because of a lack of a community/support system.

Learn how to track macros! This is HUGE for seeing the change you want to see. Tracking macros is the method I use personally, and have used with thousands of clients, past and current. It's the EASIEST way to diet and see real results. You don't have to give up your favorite foods.. you don't have to cut out carbs, or fats.. you don't have to eat anything you don't enjoy! A "diet" that doesn't even feel like a diet.. is something that you will be able to sustain for long enough to actually see results! Losing fat doesn't have to feel like torture.

FREE FitWithAlyssa resistance bands! You also get a free set (2 different sizes/resistances) shipped to you to use during your program! 
Sign up NOW! The program materials will be automatically emailed to you so you can download to your device!

All downloaded materials are yours to keep forever! They do not expire.  
Want to see client reviews + testimonials? Check out the "client results" tab on my Instagram page!--> click here!
---
 HOW IT WORKS:
1.) Sign up! (You can use a debit/credit card -OR- PayPal account) when it takes you to the PayPal page to finish payment you have the option at the bottom to "pay with debit or credit card"
2.) Everything automatically downloads upon purchase. All materials are digital and can download right to your phone for easy and convenient access.
All materials are yours to keep forever!
Have questions? Email me directly at: coaching@fitwithalyssa.com
---
*This is not a fad diet or quick fix gimmick! This is real food, real life expectations, no crazy hours of cardio, etc. A healthy lifestyle requires balance and that's exactly how you will get results- by following a sustainable plan..And that's what I'm here to help you do! I have worked hundreds of girls and seen them have great results (while also becoming friends!) I myself have also found great success eating and training this way and I want to share my secrets with you!
Everything will download automatically after purchasing.
There are
no refunds
given the digital nature of the program. The downloadable guides are yours to keep forever, they do not disappear when the program is completed!
---
More from this collection